Wheel Custom Painting & Powder Coating
Customizing the right look for your car can be challenging. Even new, high-end wheels from brands like Vossen, Giovanna or HRE can seem a bit too ordinary when you've noticed half a dozen cars around town with the same styles and finishes. How can you make sure that your car stands out from the crowd, and reflects your own personal style? One solution can be creating your own unique finish for your wheels with a custom paint job or powder coat.
California Wheels offers both custom wheel painting and powder coating services to help you create the perfect individualized look – that no one else has. The only question for you is: which service is best suited to help realize your vision?
In general, custom painting offers a larger variety of colors and design options, while powder coating boasts a stronger, more resilient finish which better suits single color, full wheel applications. Read all about the benefits of each solution below, so you can make an informed decision to uniquely customize your ride.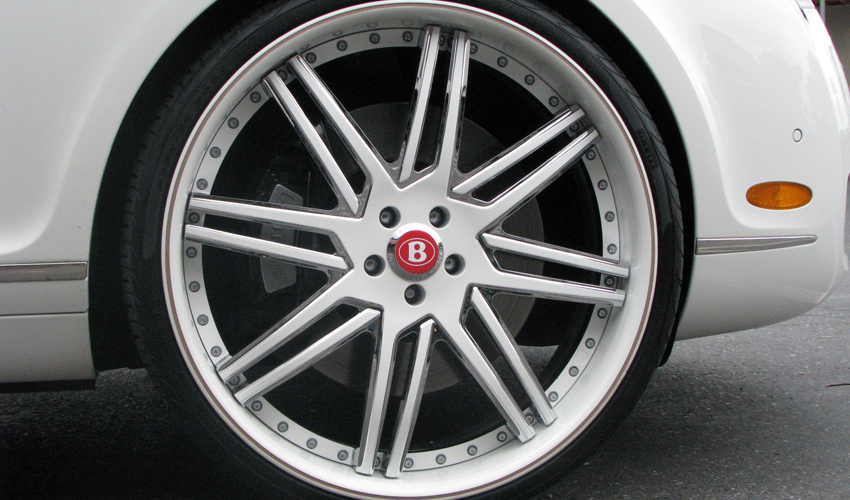 CUSTOM PAINTING
The real benefit of a custom paint job lies in the variety of options for colors and designs available. With so many options to choose from, you can let your creativity run wild. Interested in specialized, uncommon colors? With custom painting you can choose almost any color or shade you want. California Wheels can color match the shade of your car, and carry it through to accents on your wheel, like a lip stripe, center cap, or the windows of your wheel. Or you can go all the way and custom paint your whole wheel to color match your car.
Dreaming of more than one color for your custom wheel design? You don't have to settle for a whole wheel paint job. With a custom paint job from California Wheels, you can choose two or more colors for your perfect wheel design. By masking off specific areas of the wheel, we can add a second accent color to compliment your custom paint job and ensure an original look. Highlight the rim of a wheel with a color matched lip stripe, and marvel at how well it ties together your look. Or accentuate other details of the wheel by painting the windows (area around the edges of the spokes), rivets or center caps of your wheel with a splash of bright or contrasting color.
Who says you need to paint your whole wheel? When you get your wheels custom painted at California Wheels, it's up to you what gets painted and what doesn't. Why not leave some texture in with your color? Retain a specialized finish like a machined or chrome face, and then add some color to other elements of the wheel with a custom paint job. For example, paint just the rivets on your wheel to create some pin points of color against the original factory finish. Or paint the face and leave the original finish on the rivets for a tough, industrial looking accent. No matter how many colors you desire, or what parts of the wheel you want painted California Wheels custom painting provides virtually endless options to put your own unique stamp on any set of wheels.

POWDER COATING
Powder coating is a specialized finishing process ideal for aluminum or alloy metal wheels, with hundreds of different colors to choose from. Powder coating takes it's name from the dry base chemical compound which is applied to the surface of the wheel and then heat treated to create a uniform, smooth, resilient finish. The result is a tough "skin" for your wheels that will resist the wear and tear of the road.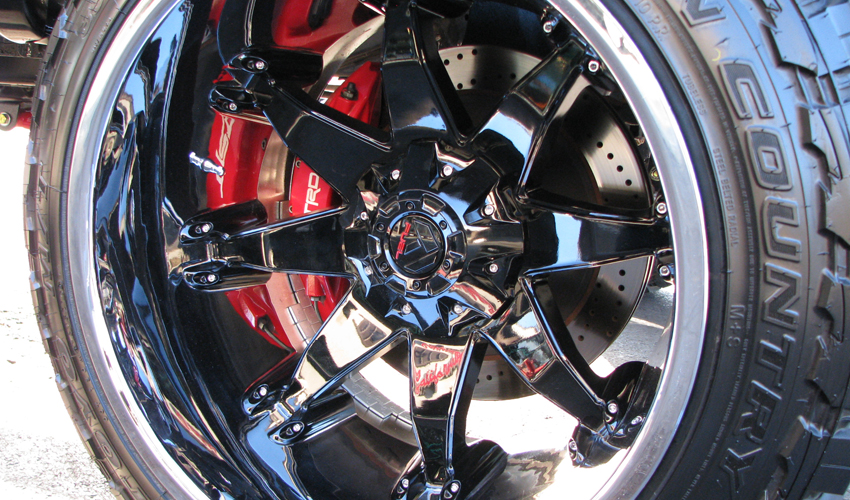 Step one is to choose a color for your powder coat. Some of the most popular colors are black, gunmetal and silver. Come in to California Wheels to take a look at color samples; we've got over 10 shades of silver / graphite / gunmetal alone. Consider a more bold choice for a pop of bright, aggressive color to contrast or compliment your primary vehicle shade. Or choose to color match your car with a resilient powder coat in your vehicle's primary color.
Once you make your color choice, it's time to select the finish for your powder coat. California Wheels offers three powder coat finishes to choose from, to get your look just right: high gloss, semi gloss, or matte.
High gloss, or shiny. Just as the name implies. Treat your wheels to a high gloss powder coat to get a factory-like paint finish, with a glossy, smooth, clear coat. A high gloss powder coat creates a bright, classy look, with strong reflection that causes light to sparkle and dance as the wheels roll, turning heads with a sophisticated, luxurious, high end style.
Semi gloss, or satin. The perfect middle option for powder coating. Semi gloss finish isn't too bright or reflective but isn't too flat either – the best of both worlds. A satiny finish that allows just the right amount of reflection, showcasing the natural beauty of the wheel, with a silky, refined style.
Matte finish, or flat. Matte powder coat finish is a very popular choice to create a more tough, aggressive, industrial looking finish, suggesting an understated, race inspired, sporty look. Show the world that your wheels mean business with a matte powder coat finish in the color of your choice.
Powder coating is also an excellent option for a budget conscious wheel refresh. If your custom wheels are seeming a bit outdated, consider a powder coat to give them new life, without having to sacrifice your expensive investment. Invigorate stock wheels with a new color or finish, perhaps satin black or matte gun metal, to create a completely new custom look and retain the factory engineered integrity of your ride.
Best of all, at California Wheels, our powder coating service is guaranteed from application defects, ensuring a professional, high quality finish every time. And last but not least, the benefits of powder coating are achieved in addition to it being a more environmentally friendly finish than conventional paint, so no matter what color you choose, you'll be thinking (and saving) green.